Not long after I graduated from college, I went to work for a financial services agency in Boston, Massachusetts. It was a great place to hang my hat. The office was right on the outskirts of the North End, so there was no lack of good food to fuel my new career.
When I was at the agency, I was exposed to everything from life insurance to retirement plans. In short order, I gravitated to the health insurance department. I've always had an affinity for science and medicine so many of the concepts were easy to pick-up.
As I immersed myself in the world of deductibles, copays, and durable medical equipment. I quickly learned that many employers were very interested in discussing health insurance. It was a noose around their neck, and anybody who could loosen the rope had the stage to present ideas and solutions.
Back in those days (the early 90's) and for the most part since then, healthcare costs have never stopped increasing. The problem for me was I never really had any real solutions to bring to the table.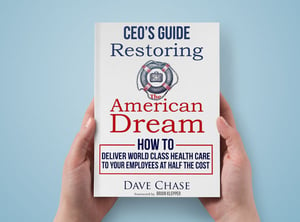 Until I got involved with the Health Rosetta.
Dave Chase's book "The CEO's Guide to Restoring the American Dream" was a game-changer for me. In the book, he laid out all kinds of concepts and strategies that employers were utilizing that achieved results like lowering costs and improving the quality of care employees receive.
It was like stumbling into an oasis in the middle of a desert. Dave very effectively created a vision of what could be. His book basically laid out how the healthcare system was broken—and how some innovative people were doing good work to fix it.
I was immediately drawn to his stories because they reflected what I had witnessed first-hand. Shady brokers and profit-driven brokerage firms, callous insurance companies and less than benevolent providers...Dave pulled back the curtain on everything bad about the system and then created a vision for how things should be.
Here is Dave giving his TedTalk:
I kept following Dave's writings, and soon he created the Health Rosetta organization. For those hearing about the Health Rosetta for the first time, it is a new paradigm for delivering healthcare to employees. It involves full transparency and fiduciary behavior and it requires an unwavering focus on prices and quality.
The idea that I could have an impact by rolling back costs and improving the quality of care employees received was intoxicating. When I realized I could go from powerless to empowered with the help of the Health Rosetta, there was no looking back.
Everything about the Health Rosetta aligned perfectly with my goals and my desire to provide more value to business owners who work day and night to leave their mark on the world. I finally had a solution for business owners who like to say that "their people are their greatest asset," since the Health Rosetta is all about taking great care of people.
I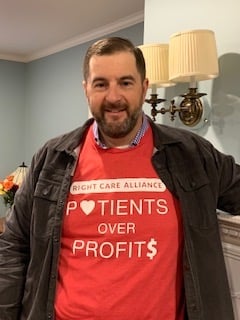 n 2018, I took the plunge and went all-in with the Health Rosetta. I officially became a Health Rosetta Certified Benefits Advisor. I also enrolled in the first Masters Degree program in the United States on HealthCare Purchasing and Delivery.
The healthcare system is rigged—and not in favor of employers or their employees. So many people and organizations have their hands in the cookie jar that not much is left for actual care. In the end, the amount of money that actually gets allocated to real care is minimal.
But the Health Rosetta provides a solution. It gives business owners the ability to fight back and take control of their healthcare once more.
If your business is ready to ditch the status quo and lower your healthcare costs, let's talk. Schedule a consultation, and I'll walk you through the process and help you build a custom plan that improves your employees' quality of care and saves your business 20-40% or more.
READ NEXT: How The Health Rosetta Is Revolutionizing The Healthcare Industry